Library
Printer-friendly version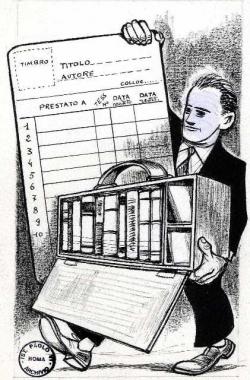 The Library, along with the Newspaper Section, was established at the foundation of the Institute, building upon the bibliographic heritage created and acquired by the Italian Catholic Action. The scope covered by the holdings includes contemporary history, history of the Italian and International Catholic movement, Church history, social and political science and religious studies. The Library is articulated into the following fonds: the Library of contemporary history; the library of the General Presidency; the collection of the editions of the branches and the movements of the Italian Catholic Action; and the complete collection of the books published by Ave, updated with the editorial production of the Foundation Apostolicam Actuositatem.
The Newspaper Section consists of the collection of over 1,600 periodicals, including the complete production of the branches of the Italian Catholic Action (Gioventù maschile, Gioventù femminile, Unione donne, Unione uomini) and the General Presidency. The Section also preserves relevant series of magazines issued by organizations belonging to the Italian and International Catholic movement. A complete list of the holdings is made available to the users.
The extent of the holdings is about 65,000 books and 1,600 journals. Among the rare editions, it is worth mentioning the books and periodicals issued by the Italian Catholic Action and the Opera dei Congressi in the second half of the nineteenth century. This heritage has been expanded over time, thanks to new acquisitions and donations from private bibliographic fonds. The Library is a significant support for archival research.
The Library has joined the Polo delle biblioteche ecclesiastiche (PBE).